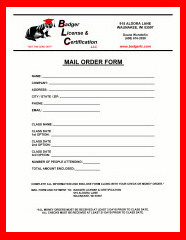 Click on the Form at the Left to Download a

Printable Mail Order Form. Complete All In-

formation and Enclose Form along with your

Check or Money Order.*

Mail Form and Payment to:

              Badger License & Certification

              915 Aldora Lane

              Waunakee, WI  53597

*All Money Orders Must be Received At Least 2 Days Prior to Class Date.

All Checks Must be Received At Least 21 Days Prior to Class Date.

To Sign Up for a Class or to Check Alternate Class

Dates and Locations Phone:

Monday thru Saturday:  7:00 am - 5:00 pm CDT

WEB DESIGN BY METRO GRAPHICS

Email Duane Wunderlin at:

Registration begins 30 minutes prior to class. Beverages and snacks are included. Lunch will be on your own. A current official form of photo ID must be presented when checking in for the class. Individuals attending refresher training must also show proof of prior training and eligibility for refresher training.